This flavorful and colorful recipe incorporates three powerhouse summer veggies: corn, soybeans (edamame), and bell peppers. Packed with fiber, protein, and healthy fat, this vegetarian recipe can stand alone as a balanced meal or be served as a side dish. We also love topping it with our favorite chopped meat for a non-veg version!
Enjoy all year round by subbing in frozen produce.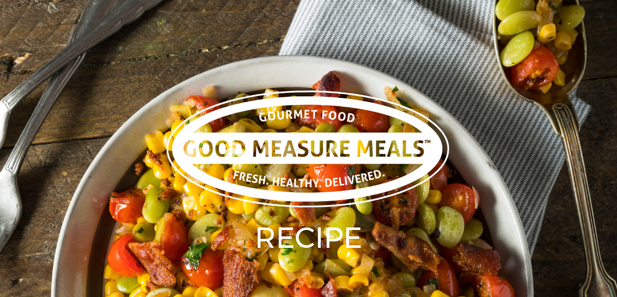 SUMMER CORN SALAD
Serves 4 as a full meal, or 8 as a side dish
Ingredients:
3 cups soybeans (edamame), shelled and steamed
3 cups corn kernels
1 red bell pepper, chopped
3/4 cup green onions, chopped
1/2 cup red onions, chopped
1/4 cup fresh Italian parsley, chopped
2 Tbsp. fresh oregano or basil, chopped
For Dressing:
1/3 cup fresh lemon juice
2 Tbsp. Dijon mustard
2 Tbsp. olive oil
Salt & pepper to taste
Instructions:
Shell and steam edamame. Drain and rinse with cold water. Shuck corn. Chop onions and herbs. Combine main ingredients in large bowl, set aside. Whisk dressing ingredients together in a small bowl. Add dressing to main ingredients. Toss to coat.
Nutrition (based on 4 servings):
Calories: 386; Fat: 18g; Saturated Fat: 2g; Sodium: 126 mg; Carbs: 44g; Fiber: 10g; Protein: 21g