1-on-1 personalized guidance and support starts here
Meet Our Dietitians
Looking to go beyond the "dieting" mentality and find personalized guidance in losing weight or managing cholesterol, blood pressure, and/or diabetes? Curious how many calories your body actually needs? Training for a big race and need assistance to properly fuel your workouts? Our in-house Registered Dietitian Nutritionists are ready to develop an individualized plan just for you!
Alissa Palladino
MS, RDN, LD, ACSM-CPT
Alissa Palladino is a registered dietitian nutritionist licensed by the state of Georgia and certified personal trainer born and raised in New York City. After graduating from Yale University and working in the education field, Alissa decided to combine her love of teaching and helping others with her long-time personal interest in health and wellness by pursuing a career as a dietitian. She earned her Master of Science in Clinical Nutrition at New York University and completed her training at Emory Healthcare, where she also worked as a Clinical Dietitian.
In 2014, Alissa joined Good Measure Meals where she provides one-on-one nutrition counseling, both on-site and in corporate fitness centers. She specializes in sports nutrition, weight management and chronic disease prevention and management.
Recognizing the complementary roles of diet and exercise, she recently completed her certification as a personal trainer through the American College of Sports Medicine.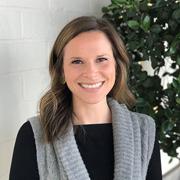 Caroline Murphy
MS, RDN, LD
Caroline Murphy is a registered dietitian nutritionist licensed by the state of Georgia. She attended graduate school and completed her dietetic internship at Georgia State University where she earned a Master of Science in Health Sciences with a concentration in Sports Nutrition.

Prior to entering the field of nutrition, Caroline received a bachelor's degree in Early Childhood Education from the University of Georgia. She spent three years working for Atlanta Public Schools where she was an elementary school teacher at Drew Charter School. During this time, her passion for food and nutrition grew and she saw the powerful impact that nutrition has on our health and chronic disease management. Through these experiences, Caroline realized that her teaching skills could be used to promote nutrition education and she made the decision to pursue her dream of becoming a registered dietitian nutritionist.
Continue Your Services
There is no silver bullet to achieving your health goals, and often times we just need to take note of where we are and set goals towards our continued success.  Add in the optimal level of support from your registered dietitian to ensure that you are staying on track in your wellness pursuit.