If you're like most of us on the Good Measure Meals team, reaching the month of May in quarantine means existing between a delicate balance of a new-found rhythm and teetering on the brink of full mental collapse at any given moment. (By the way, having two toddlers in my home quarantine mix regularly finds me much further on the "brink" end of the spectrum than not - for anyone else out there in a similar mental state, SOLIDARITY to you, friend.)
Below are just a couple of my own "Sanity Savers" of late. What resources have been keeping you grounded or chuckling lately? Share in the comments!
By the way, these are listed in order from "most likely to be approved by the Good Measure Meals dietitians" to "this lady has absolutely gone over the brink," so please enjoy with full disclosure.
Actually, dietitian Caroline Kinzey recommended this simple, 2-minute meditation to me a week or so ago (what is time anymore?). I kid you not, I broke down crying before it was over. Here's how you know it's long past time to simply sit and breathe, right? 
The YMCA is a long-time partner of Good Measure Meals and Open Hand Atlanta, and I am consistently impressed with how they serve the Metro Atlanta community. Despite closing their facilities, they have remained an active and valuable presence for their members and the community-at-large since quarantine began.
Your Y At Home is a FREE online hub for Staying Active (fitness videos in lieu of group classes!), resources for family-friendly activities (grateful!), and resources for active older adults. 
I'm just going to add one personal plug "for a friend" that if you've ever experienced trepidation about joining a group class (cough cough, "dance fitness," cough cough), trying it online in the *safety of your own home* is truly a best-case-scenario for getting a good sense of what a different workout type is all about!

Nature Walks & Neighborhood Greenspace
I've never been more thankful for Atlanta's reputation of being a "city in a forest." My family lives in-town and we have visited Grant Park, the BeltLine, Morningside Nature Preserve, W.D. Thompson Park, Arabia Mountain, and some of the lovely greenspace treasures in our own neighborhood over the past weeks.  These moments of fresh air off of our own property truly save my life regularly. Here is a list of great nature walks published by Atlanta Parent. *When visiting public spaces, please be sure to practice safe social distancing, as well as the safety guidelines set forth by the CDC.

The Kitchen Music Playlist
Besides getting outside, music has absolutely been my go-to sanity saver. There are playlists for any sort of mood or activity these days, and below are a couple recs for music to play while cooking!
The Perfect Italian Dinner - I love the classic vibe of this Spotify playlist! 
Feel Good Dinner - A Spotify compilation of recent releases for definite good-mood-music. 

Sliced Bread, Literally
"Toasts of Quarantine" has been a running joke with myself and the Good Measure Meals dietitians, because toast has truly become a food group of its own for me these last weeks. Trying to feel sane while prepping meals every day with limited ingredients has been harder than I expected (I relied on Good Measure Meals for breakfast & lunch every day!), but making something as simple as sliced bread feel special - even in little ways - goes a long way for my own sanity.
My simple (non-dietitian) tips include:
Add an herb garnish to literally anything, including open-faced PB&J toast
Hummus is a delicious base spread to top with chopped/sliced veggies (like cherry tomatoes!) and grated cheese
A mix of different canned beans, hominy, or corn, plus chopped veggies makes a great toast topping - almost like a chunky salsa/dip

We're all taking video calls lately, and having a fun background (when appropriate) is one way to lighten the mood and even save a little of your own sanity. McCormick even released some backgrounds to "spice up" your next call, featuring two of my personal favorites: Franks' Red Hot (view & download here) and Old Bay (view & download here)!
Finding Humor
Nothing is better when you feel overwhelmed than something that makes you chuckle for a moment (and I promise I'll end after this).
In case you need something in this particular moment (and if our tastes align), I laugh at 99% of Simon Holland's content on Instagram/Twitter. He's a dad with a running commentary on the benign-yet-absurd moments in daily life. Example below: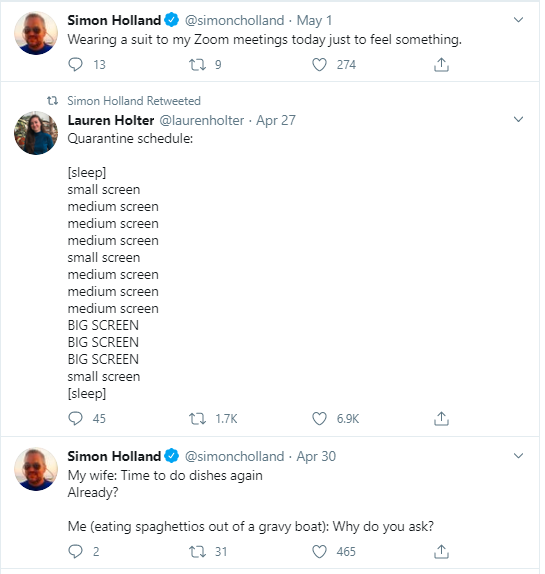 Alright, we've officially reached the crazy-lady end of this list.
Any product names, logos, brands, and other trademarks or images featured or referred to within the Good Measure Meals website (goodmeasuremeals.com) and/or on any social media forums are the property of their respective trademark holders. These trademark holders are not affiliated with Good Measure Meals, its dietitians, or its website. These trademark holders do not sponsor or endorse Good Measure Meals, its dietitians, or any of its products or comments.