Orange- and red-pigmented produce, such as bell peppers and peaches, are loaded with powerful antioxidants called carotenoids that can improve immune function, lower cancer risk and prevent sun damage, among other health benefits.
Grilling these fruits and veggies brings out their natural sweetness, and using olive oil makes it a heart-healthy cooking method. Add chicken or shrimp to your skewers for a complete meal!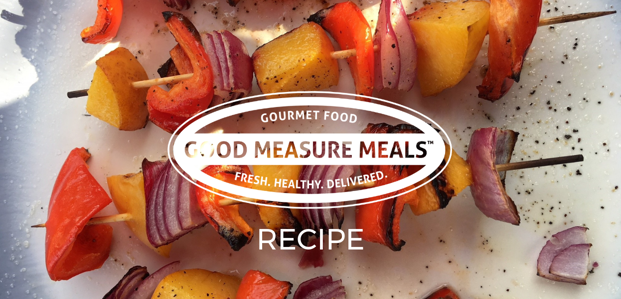 GRILLED PEACH & PEPPER SKEWERS
Ingredients:
2 large peaches, cut into 1-by-1 inch cubes
2 red bell peppers, cut into 1-inch squares
1 large red onion, cut into 1-inch cubes
1 Tbsp. olive oil, for coating
Salt and pepper to taste
Optional: fresh basil
4 skewers, metal or wood (if using wooden skewers, soak in water overnight to prevent burning)
For Balsamic Glaze:
1 cup balsamic vinegar
1/4 cup honey
Instructions:
For Balsamic Glaze:
Combine balsamic vinegar and honey in a small saucepan. Bring to a boil, then reduce heat to low and simmer for about 15 minutes, until mixture is thickened. Set aside to cool.
For Skewers:
Wash and chop peaches, bell peppers and onions. Coat with olive oil; sprinkle with salt and pepper. Position produce on skewers. Grill skewers over medium heat until desired browning occurs. Drizzle with balsamic glaze. Add fresh basil to ends of skewers if desired.
Nutrition (per skewer):
Calories: 180; Fat: 4g; Saturated Fat: 1g; Sodium: 9mg; Carbs: 35g; Fiber: 4g; Protein: 2g