Hello! I am Michelle, a kitchen-dancing, aspiring chef, and registered dietitian nutritionist (RDN) at Open Hand (in partnership with Good Measure Meals). Last month, my colleague, Shelby Utter, gave us a delicious Stuffed Pepper recipe in addition to a rec for her favorite podcast of the moment and some thought-provoking insights about the effects of poor sleep.
As RDNs, we are here to help make sense of all the nutrition advice buzzing around. It's our goal to empower you to have healthy relationships with food and meet your personal wellness goals. But we also want you to have fun with food! So here, you will find one of my go-to recipe sources, a podcast I'm digging that will make you learn more than you could ever imagine about food history, culture, and science, and a book that provides insight about the relationships between sustainability, good food, and nutrition.
See what we did there? Registered Dietitian Nutritionists giving their favorite Recipes, Digs, and Nutrition insights. Food puns forever!
[RECIPE] Make it gluten-free
For the past 2 years, my sister has gifted me Bon Appetit magazine for my birthday and I am obsessed. I originally stumbled upon this publication while looking to pass time during a twelve hour layover and have been since hooked. I love how frequently they incorporate veggies in innovative ways with a multi-cultural flair and their INCREDIBLE dessert recipes that never disappoint. I have several family members with Celiac's and gluten allergies, so I often alter their recipes with alternative flours; and as a dietitian with a background in culinary nutrition, I usually find myself reducing the butter, salt, and sugar while experimenting with unique flavors and spices.
One recipe I whipped up recently was their Gluten-Free Chocolate Buckwheat Waffles. Buckwheat is actually a fruit seed, which for this recipe is ground into flour. It is naturally gluten-free and full of nutrients- minerals, essential amino acids, antioxidants, and fiber- unlike some other gluten-free flours. When you add cocoa to this earthy-flavored "grain," the unique notes of each ingredient balance each other for a sweet and nuanced taste. Needless to say, it was a hit with the family.
[DIGS] What I'm listening to…
A go-to podcast of mine is Gastropod, a radio show which "looks at food through the lens of science & history." They discuss everything from avocados and ice cream to Fletcherism and aquaculture. Be prepared to wow everyone you meet with random but fascinating facts about food and nutrition. I love the insight from this show because it allows me to deepen my understanding of the nutrition, science, and culture around food! Absolutely interesting and great for long commutes in Atlanta traffic.
[NUTRITION] Don't just know what YOU eat, know what your food eats, too.
While obtaining my graduate degree/dietetic internship, I was able to work under some amazing chefs, one of whom was a bakery chef with the heart of an Italian and the perspective of a craftsman who deeply cares about the food he creates. During our long hours making breads and macaroons, we talked a lot about the sourcing of ingredients and nutrition. He suggested Dan Barber's book titled "Third Plate: Field Notes on the Future of Food." The book describes what our plates should look like: observing our various agricultural food systems‑- land, soil, sea, and seed--and how ingredients become more delicious, as well as nourishing, the more sustainably we care for them.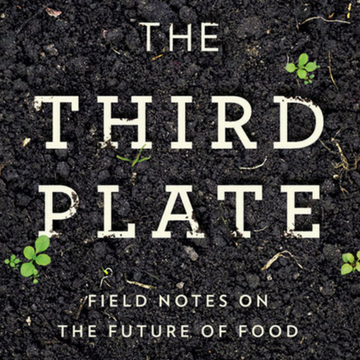 Barber explains that with the industrialization of our agricultural food system, "many vegetables have shown nutrient declines of anywhere from 5 percent to 40 percent… plants that have such low concentrations of certain nutrients [they] do not adequately nourish the people who eat them." However, he then highlights individuals around the world creating awe-inspiring, sustainable and nutritious food, counteracting this industrial movement.