I recently had the opportunity to sit with Julie Finn and chat with her on The Working Mother's Mentor Podcast.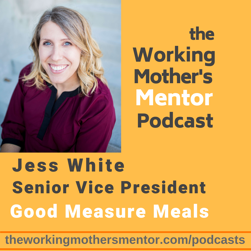 What a great experience to share how I approach some semblance of Work-Life-Balance as the Senior Vice President of Good Measure Meals, how I approach developing the next generation, and how the work that I love has influenced how I shape my kids' relationships with food.
Believe me when I say my kids aren't perfect eaters, but I've learned a few tricks over the years and figured I should share them with all the other hard working parents who might feel guilty about those nights where nachos seems like the only thing you can muster up (spoiler! We've all been there!).
And regarding that elusive "Work-Life-Balance," I'll be honest- I love my family and I actually love to work. Partly because I love a good challenge, but mostly because I love what I do.
I came on board with Good Measure Meals in early 2010, and by mid-2011 I was handed the reins and the opportunity to make a true difference in the way our customers and community thought about food.
During the 8 and half years since working here, I met my future husband, got married, had a kid, and decided to have another.  To say balancing the personal and professional demands was easy is laughable, but it has taught me a lot about how I can best navigate my role as a business leader, a wife, and a mom.
So save this podcast for your next commute (be sure to check out some of the others featured on The Working Mother's Mentor Podcast as well!) and enjoy one of my first attempts at being a guest on a podcast.
Hopefully you'll find something to chew on.  (Sorry, I really can't resist a good food pun!)