If you watched the men's triathlon at the Rio Olympics, you probably noticed how many times the commentators discussed the rigorous training program of the world's top Olympic-distance athletes, Alistair and Johnny Brownlee - thousands of hours on the bike, day after day of hill intervals, miles upon miles of open water swims, demanding psychological testing, carefully planned and timed meals.
The Hardest Part of Ironman Training Isn't the Workout
Although I don't train like the Brownlee brothers, I still put in up to 14 hours/week training on top of a 40 hour/week job. I actually love "going out and getting some oxygen in my brain" during a tough workout as my old cross-country coach used to say.
So the hardest part of training for me isn't the actual training.
The hardest part is eating decently.
When I tell people this, they usually respond by saying "you're so lucky!" or "eating is so fun, what a good problem to have!"
Yes, the common joke in our household is that I can eat a large pizza at any point during the day (sometimes I do...not ashamed), but on top of an already demanding schedule, it's difficult to plan meals, consume the correct amount of calories, and eat healthy food without breaking the bank.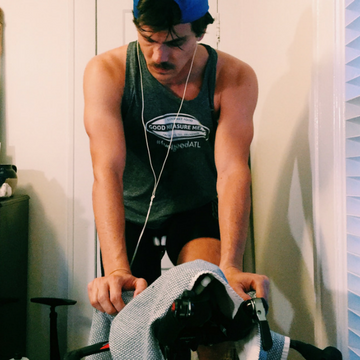 A regular sight - sweating through my FUEL tank on my bike trainer
The Science of Fueling for Endurance Training
Nutrition is critical for success in triathlon - it fuels performance, speeds recovery, and enhances muscle strength. I realized I wasn't going to be at my best if I was always getting hungry in the middle of the night or desperately crushing a box of Cheez-Its when I got home from work. I was hungry all the time. I couldn't keep up, and I needed help.
Most triathlon literature quickly breaks things down into science (Are you getting the right mix of carbs, proteins, and fats? Are you taking them in at the right time? What's your resting metabolic rate? What's your sweat rate?, etc.), which could be helpful, except it wasn't practical for someone like me, because I didn't have time to figure all of that out.
Luckily for me, Alissa Palladino with Good Measure Meals helped me think through my nutrition plan with an informative 2 hour session. We started with a MED GEM test to determine my resting metabolic rate. I would've guessed I needed up to 3,600 calories/day max before the test. Turns out, I need up to 5,000 calories/day depending on my workout schedule.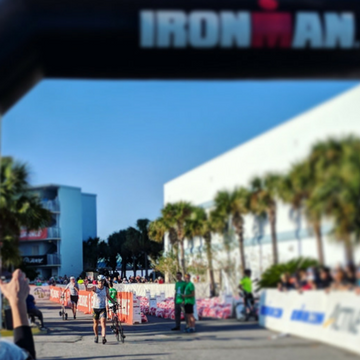 Ironman 140.6 Panama City Beach - starting off on the bike
This fundamentally changed my nutrition planning for training - when working off of my own assumptions, I was constantly depleting my body of the necessary energy to perform.
We also did a Tanita test which helped me understand the composition of my body - my goal is to stay in a healthy zone for body fat % (not too high or too low) and this gave me valuable insight for that range. I'm planning on monitoring this as my training changes over time.
Alissa did an excellent job answering all of the questions I couldn't answer myself. I left with a better sense of when to eat, how much to eat, affordable and delicious food options, and so on. She's an avid runner with extensive nutrition experience so she understood all of my nerdy questions about how my body processes calories in anaerobic states vs. aerobic states, etc.
I left feeling more in tune with my body and a better athlete - goal achieved. I would highly recommend Good Measure Meals' nutrition services to any athlete looking to boost their performance. Nutrition is critical to your success!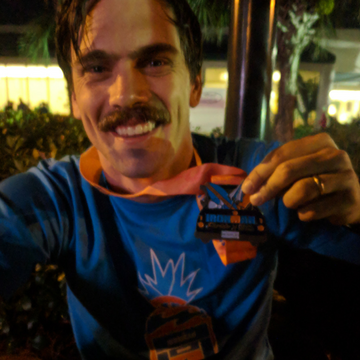 Ironman 140.6 Panama City Beach - Finisher!